Thursday, 29 December 2011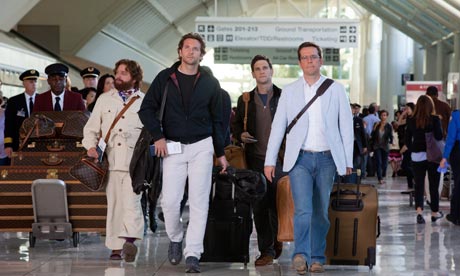 Phineas T. Barnum once said 'There's no such thing as bad publicity' if that were true then Warner Brothers hit the mother load with The Hangover 2 who have now added Louis Vuitton to their long list of lawsuits in relation to the movie.
Vuitton are suing the movie over the use of a fake Vuitton bag after it identified as being one of their own. Vuitton suggests the brand has been damaged and are pursuing a percentage of the movies profits.
On a personal level I have to admit the use of fakes in movies and TV bothers me, surely the prop department would be able able to use it enough in other movies and shows to justify the cost, that is of course if they didn't destroy it and also assuming that they do indeed pay full retail for them and they aren't discounted or gifted to the studio. However what makes this movie so special to pursue damages why not "Friends" with Rachel leaving for Paris to work for Louis Vuitton with her fake bag slug over her shoulder, I'm sure that would receive a frosty reception on the first day. What about "The Proposal" with Sandra Bullock although I'm not too sad about that one seeing as it ends up in the water. How about Mean Girls or White Chicks (yes I watch you awesome movies I know lol) to name just a few.
Where do you draw the line that it it's ok to use a fake in one place and not in another?
Photograph: Melinda Sue Gordon via The Guardian